Thursday night after the premier, after the movie, after Rob, surviving Rob, we went back to the hotel, and I for one just crashed and passed out. It was so over whelming. None of us were looking forward to Friday.
Friday meant Robstock II was over, and we would have to say goodbye.
Weeks before, we had arranged for Nikola6 to meet us for breakfast before some of the NB's had to leave that day. She so wanted to meet these women, and we all wanted to meet her! Dessert and I already had plans with Nik for that day & evening.
Unfortunately, good old LA traffic interceded and she was running so late, she was not able to make breakfast. We still went and tried to savor our time together as much as we could; but all good things come to an end.
I don't remember who left first. I just remember us standing in the lobby, crying, hugging, and saying good-bye. Nik did show up and was able to meet some of the NB's. I will tell you that saying good-bye to them was one of the hardest things to do. These were my sisters, and none of us knew when we would be together again. But we definitely will. MD!!!!
So off to the next adventure!
Dessert was staying until Sunday, and I was staying till Saturday, and Nik had this brilliant idea to get us a room at the famous Chateau Marmont in Hollywood. On her. Her treat. Are you kidding me? Nope, she was not kidding. We had also arranged to meet up with the lovely Loisada and have a Rob party of our own.
The Chateau goes back to the days of Hollywood where the Richard Burtons and Elizabeth Taylors stayed. Movie stars would often live there for a month or two. They had their love affairs there. John Belushi died there. It's infamous…Rob and Kristen have stayed there several times. Remember the photographs of them from the balcony, or on the patio? Remember Rob eating on the patio? Remember the morning after the 2009 MTV movie awards? But, I'm getting ahead of myself…and no…we did not expect Rob and Kristen to be there. Nik just wanted to show us a side that most people never get to see.
We all hopped in Nik's car and headed out to Piru, Ca which is one of the filming sites for Water For Elephants. (the other was Filmore). We met up with Loisada there, who is fearless! We hopped into her car and she had no problem saying, hey let's try this road! We drove by the front of the set first and noticed a few cars parked across the street with fans waiting, hoping to get a glimpse. We drove around to the back, and got as close we could, without being on private property. There were also a few fans in the back as well.
It was AMAZING!!! The tents, the trains, the CIRCUS!!! I wish we'd have thought to bring binoculars!!! It was about 100* and just blazing hot. We just stood and stared, shared stories; got to know each other. Enjoying being together. You talk to people on line and form these bonds…but meeting them in person…the bonds just grow stronger.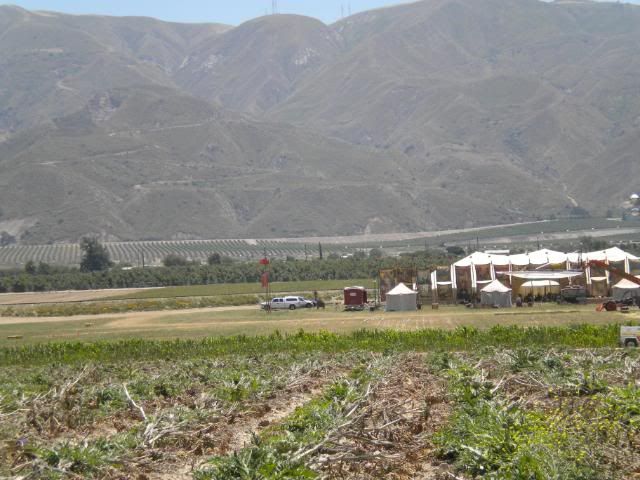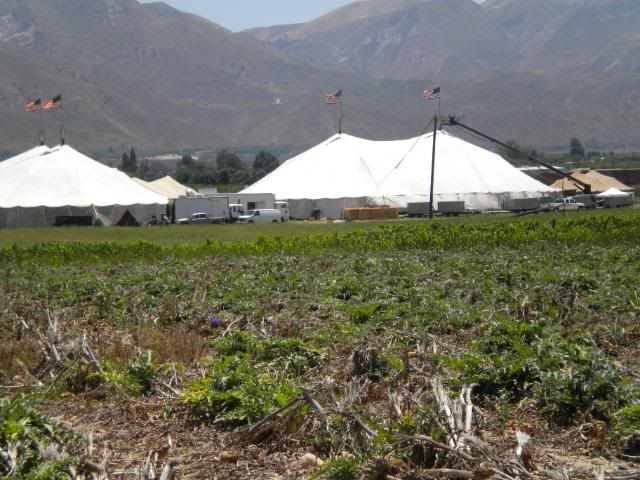 After a while paparazzi started showing up…so we knew Rob must have arrived. Turns out, he'd just gotten there. It's about 2:00 or 3:00 by now. The pap rats were trying to get photos, walking around, trying to be sneaky. I took a pic of one of them. Security came and told us we had to cross the street because we were on private property. Thank god Loisada had a couple of camp chairs in her car, because I was back to having cankles again! I was so burned by this time my feet were purple and my cankles were in full bloom. Hello! You lived in LA your entire adult life and didn't bring sunscreen? Yep, that's me.
Nik & Loisada went and bought us lunch and brought it back to Dessert & I. A couple of other fans showed up.
I immediately spotted Rob walking across the set. I'd know that walk anywhere. Hands in pockets, head down, long legs and log stride. I took tons of photos, but on my crappy little camera you can just see a dot…but that dot is Rob. He waived in our direction. The girls next to us had binoculars and confirmed it was indeed Rob. ( I knew that). We couldn't see the filming, but we could hear all the clapping and cheering going on under the big top!
I think all in all we stayed out there about 3 or 4 hrs. Being that he didn't get there till 3:00, we knew it would be a long day and night before he left, so we packed up and left and drove back to Hollywood.
Dessert & Nik went and stocked up on adult beverages and we headed into the Chateau!! What an amazing place this is. Just old Hollywood glamour, cool, and boy do they treat you like Queens!!!
Nik went to check us in and discovered a lovely surprise. We had been upgraded to a Bungalow…the best you can get! The place is to die for. Beautiful rooms, right near the pool, a secluded hideaway behind the bamboo trees. To quote Nik " I wanna live here!"
Our plan that night was to drink, talk, watch Remember Me, and just have a Rob party. We did about ½ of that, as I was exhausted and I think went to bed at 11:00. Big partier!
Nik had made a reservation for us to have brunch on the patio on Saturday. I can't believe she did all of this for us! We had brunch at 10:00. We weren't seated more than 10 min. and in walks Xavier Samual (Riley) with his girlfriend. He sat at the table right next to us. This is a safe haven for celebrities. They're not to be bothered or photographed, so we ignored..Sort of. There were some sideways glances!
The brunch was awesome, great food and service. Well duh!
Right as we were getting ready to leave, in walks Cameron Diaz & ARod. I am not star struck (only for Rob) so I really could care less, but it was still cool all the same.
Time for more good-byes at this point. Loisada had to get back to her family. She is such a lovely intelligent person and I so enjoyed meeting her and ROBsessing! Loisada was standing downstairs waiting for her car, right next to Adrian Brody!
Nik drove Dessert & I back to the hotel, where more good-byes were looming. It was time for me to go.
We drove down Sunset and Nik pointed out Rob's In N Out, where he used to sit in his car and read scripts. (He read Remember Me there). You know I had to take a photo of that!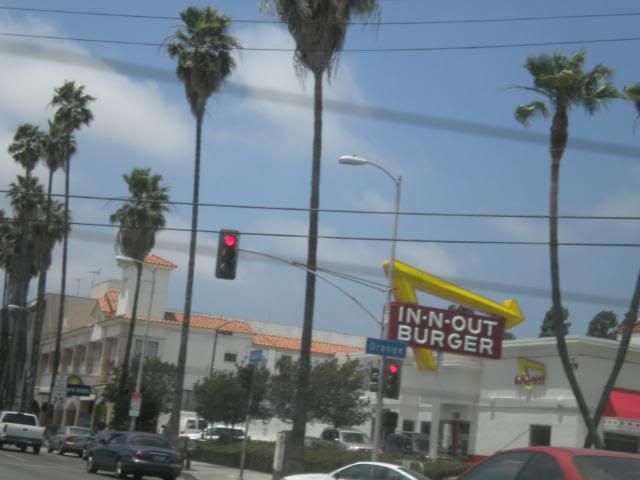 Saying good bye to Nik and Dessert was harsh as well. I'd spent an entire week with Dessert, and could hardly bare to leave her.
And Nik, what can I say? She's my soul sister on so many levels. She knows why….and I love her to death.
Would I ever do this again? You bet your ARSE I would, in a heartbeat!!! It was worth every bit of pain (I had lots) and no sleep. Best of all was Rob, and my new BFF's for life.
My advice for anyone thinking of doing this; Go for it. It's the best time ever! (Are you listening JC?)
Having not camped out for Twilight and New Moon in Westwood, I have nothing to compare this experience with. From what I heard and have read, this sucked compared to the first two. I don't care, I wouldn't change a thing.
Would I do anything differently? Yes. I would and will speak to Rob next time. I will tell him what his movies mean to me. I will tell him what he means to me. I won't ask him to dump Kstew and run away with this old lady, but I'll think it all the same.
Thanks for reading! MD! MD! London calling!
Random pics...
Here's Kellan
Here's me..
The Nokia at night is so pretty..
Here's part of our Team Ross skit..
Here's a gorgeous pic of the mole we all want to nibble on!
And last but not least.... a beautiful smile...